Main Members (メインメンバー, Mein Menba?) are the player's primary combatants. They are the ones who are in the thick of battle against Aradama and fight in behalf of the player against another player's Main Members in Tournaments. Each Main Member has an attribute and a Secret Technique or Ougi, and can also have a Characteristic and a Leader Skill.
Main Members can normally be obtained through the Recruitment Gacha or accomplishing certain chapters of the Main Quest. They can also be received as rewards from events. Any exact duplicates of Main Members in a player's inventory are immediately converted into Blooming Gems of its corresponding rarity.
In combat, Main Members have three slots for equipment: one for Okatana, one for Amulets, and one for Assist. They can also follow formations, which give a minor boost to certain Main Parameters, and can be designated as a Unit Leader, which activates that Main Member's Leader Skill, if available.
Acquiring certain Main Members unlocks cosmetics associated with it. For instance, receiving Hiyori Juujou will unlock the Heijou Institute school uniform as a costume. In addition, themed Main Members can unlock additional costumes, like Shrine Maiden attire or Pastry Chef costumes for a specific character.
Currently, there are sixteen playable Main Members by character.
Main Member Information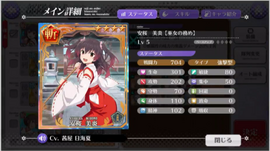 Detailed Information
Strengthening Main Members
There are several ways to permanently boost a Main Member's capabilities.
See also