Twitter (@tojinomiko and @tojitomo)
Affiliates

TojiTomo Updates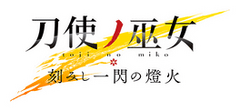 Latest: v1.6.9 (January 18, 2021)
Daily Missions • Weekly Missions
Challenge Missions

Current Advent of Calamity
Darkness Wicked Claw Manifestation
Duration: December 25, 2020-January 29, 2021
Featured Rewards: Gems, Old Sword (Primitive Shrine), 4★ Blooming Gem, Divine Mirror of Enlightenment Fragment
Ongoing Gacha Event/s
(January 18-29) 11th Joint Raid New Member Pick-up Gacha
Featured:
Latest Episode
TojiTomo OVA Episode 02
"Germination Arc, Part 2"
November 29, 2020
As she is taken care of by Mihono and the other members of the Akabane Sword Investigation Team, the humanoid Aradama Kohime appeared to have opened her heart for humanity. However, as soon as the reality that "Toji are tasked to cut down and exorcise Aradama" was thrust into her, she once again closed off her heart. Mihono and the others were worried about Kohime, who was in turn troubled about the fact that Toji and Aradama are enemies.

One day, as the Investigation Team were en route to an Aradama subjugation mission, Kohime went on the run from an Origami Family facility and heads toward where Mihono and the others are...
Community content is available under
CC-BY-SA
unless otherwise noted.