Twitter (@tojinomiko and @tojitomo)
Affiliates

Latest Episode
Episode 24 (Finale)
"Shrine Maidens of Union"
June 22, 2018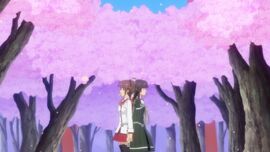 On that day, Kanami and Hiyori vanished with Tagitsuhime into the limits of the netherworld. Two months have passed. The world has slowly returned to normal. But no trace of Kanami or Hiyori can be found. Without a sense of time or space, the two wander separated in the netherworld.
Community content is available under
CC-BY-SA
unless otherwise noted.